Jorge Newbery International Airport, Buenos Aires
Second-largest Airport of Argentina, Aeroparque Jorge Newbery is located in the northwest area of the City of Buenos Aires and at a distance of 2 km from the center. It operates domestric and international flights to Uruguay and other surrounding countries.
Click here to know more about the airport
Our stores at the airport
If you're going to catch a flight from the Aeroparque Jorge Newberry airport, don't miss out on the chance to visit one of the Duty Free stores that you´ll find in Buenos Aires. Discover a wide range of cosmetics, beauty, food and liquor products. You will find all items at a reduced price thanks to the tax exemption on products sold at our airport stores. Make the most of your trip to Argentina and buy name brand products at the best-reduced prices.
The Aeroparque Jorge Newbery Airport in Buenos Aires has two Duty Free stores. The first of its stores can be found in the Departures terminal and is open 24 hours a day. This store mainly has cosmetics, food items, souvenirs, regional and local products and liquor. Our second store is located in the Arrivals terminal and is also open 24 hours a day where you can find fragrances, cosmetics, toys and liquor.
Enjoy buying from the best brands on the market at an unbeatable price. While in Argentina, pick up tax free liquor, fantastic local food products, or unbeatable fragrances at reduced prices from our Duty Free stores at the Aeropoarque Jorge Newbery Airport in Buenos Aires.
Don't miss the opportunity to pass by the Aeroparque Duty Free and make your last-minute purchases before boarding. Duty Free also offers the chance to order online from their Reserve & Collect service. After making your reservation, all you have to do is collect your order at the Pick Up Point up to two hours before your flight. Take advantage of all the benefits of buying at Duty Free stores and enjoy your flight!
Duty Free Shop Argentina
Location

Departures

Shop Categories

Fragrances, Cosmetics, Beverages, Food, Electronics, Textils, Luggage, Accesories, Souvenirs, Destination Products, Toys

Telephone

0800-333-9460 (from abroad 005411 5480 6200 INT: 8901)

Email

0800@dufry.com

Opening hours

24hrs
---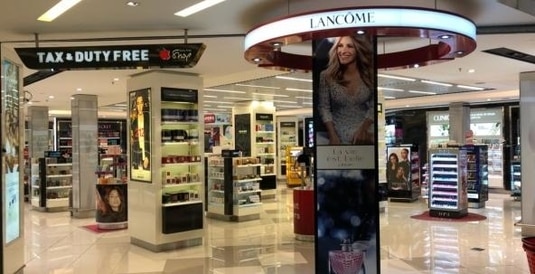 Duty Free Shop Argentina
Location

Arrivals

Shop Categories

Fragrances, Cosmetics, Beverages, Food, Electronics, Fashion, Luggage, Accesories, Toys

Telephone

0800-333-9460 (from abroad 005411 5480 6200 INT: 8901)

Email

0800@dufry.com

Opening hours

24Hs